Hopefully she won't look at this just yet, but I wanted to share what I made for her upcoming bridal shower. I will always remember the plaque she made for me when I was a bride-to-be, and how much it touched me to tears. My sister and I are close, but sometimes as with any siblings we can feel miles apart in thought. I wanted to make her some things, since I'm a crafty person, that she knew I put my heart into just for her.
The first item on my list was the invitation to the bridal shower our aunt was hosting. Here are a few side that don't show private info. I used my favorite Creative Memories program Storybook Creator.
Then of course she needed a custom made sundress featuring material of her favorite flower, the cherry blossom – to wear to the shower.
A modified version of Simplicity pattern #2886, completely lined with taffeta for a softer, semi-formal feel for the special occasion. Only took 3 sittings and one fitting to complete, with moderate experience in dressmaking.
The pleating wasn't too hard to accomplish, just tedious. In the pocket is a special something to say "I put my heart into this."
I am so proud of my invisible zipper, that I hesitated for days to complete.
I am certain she'll look stunning in it, as she does in just about anything!
For her hair, I found this Conair barrette in red (at Cub Foods of all places):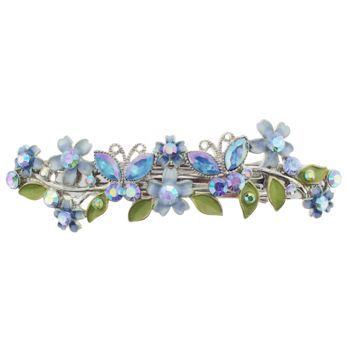 I spent around 10 or so hours on embroidery, because I wanted something to give her at the shower that she'll have for many years (at least the first 10 from my experience.) My favorite homemade gift from my wedding was dishtowels with embroidery. Here are some of hers (which she hasn't seen yet, shhh.)
These were so fun to design and create. I made them while in our van and in the quietness just before bedtime. It's quite therapeutic mentally, but harder on the hands than I expected.
Found this fun link on another blog, for wedding reception guest books. Fun for weddings or any other big celebration such as family reunions, birthday parties, etc!
Happy crafting!